YOGA FEST
ISRAEL'S INTERNATIONAL YOGA FESTIVAL
THE FESTIVAL 4-6 MAY 2023
The first and biggest Yoga Festival in Israel. Israel's best yoga teachers, special guests from around the world, inspirational musicians, therapists, lecturers, workshops and most importantly yoga practitioners from Israel and the rest of the globe – we all gather to learn, practice and love in this special event. Our magical yoga village creates itself every year in the beating heart of Gan HaShlosha national park, one of the most beautiful nature reserves in Israel, which resides at the foot of the Gilboa Mountain. The park includes natural pools and amazing waterfalls that lead us to open a water compound with special sessions and workshops (meditation, water therapy and more). This is of course without mentioning our magnificent therapy compound, which offers free treatments to our guests by professional, certified therapists. So many wonderful experiences are waiting for you… join us!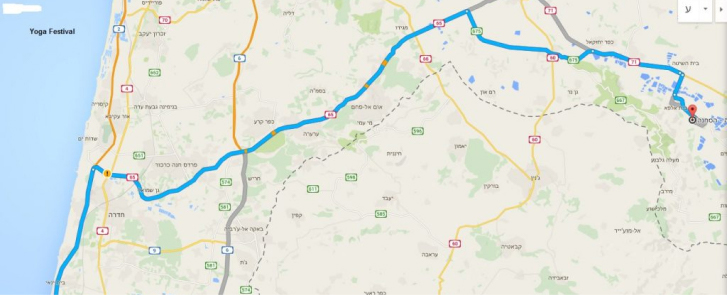 THE PARK
Situated at the foot of the Gilboa, Gan Hashlosha is considered one of Israel's prettiest parks and includes infinite grassy areas and breathtaking scenery. Time Magazine acclaimed Gan Hashlosha among the world's 20 most exotic sites! The park's water flows out of a natural pool embedded amid lovely waterfalls and stone bridges. The water is pleasant and safe for all ages; one could simply hours bathing in it. The festival is taking place in a eparate area within the park, dedicated to its participants.
Time Table – 
Also in the festival:
Delicious vegan food- 
 Music shows- 
Therapy compound with free treatments- 
 A colorful artist's fair with art, jewelries and clothes- 
 Water compound with relaxing sessions- 
Yoga market with special yoga equipment- 
 Kids compound with fun activities and shallow swimming areas as well- 
CAMPING IN GAN HSHLOSHA
Camping is a big part of the entire experience. The park is marvelous and the weather is perfect for sleeping outdoors. In the festival space you'll find dedicated camping grassy areas in between the peaceful trees. There are several toilet and bathroom facilities, with hot water all day long.
ROOMS
You can also find a few country lodges at various price levels.
NIR DAVID
Exclusive wooden cabins, including generous breakfast. Located one kilometer from the park (a min driving or 10 min walking distance). Cost of a 4-people room (adults and/or kids): 1330 ILS per night. There's only one room left. Book your room at: 058-5820820
BEIT ALPHA
Pleasant rooms at various price levels. Located 1.5 km away from the park (2 min driving). Cost of a room for 2: 550-650 ILS per night, including breakfast. Book your room at 04-6533026 (Chen), and mention you're a festival guest.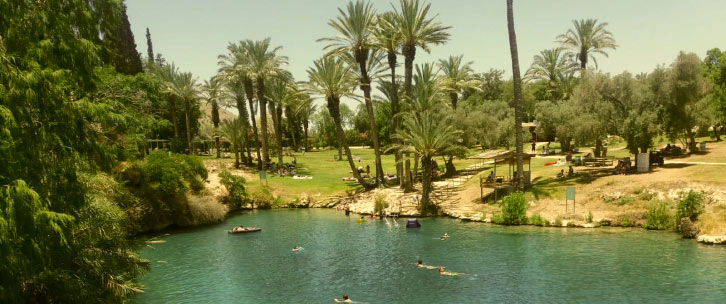 Gan Hashlosha is located in the springs valley in the area of Beit She'an.
Approximate driving time from:
Tel Aviv – 1.25 hrs
Jerusalem – 1.5 hrs
Haifa – 50 min
Sea of Galilei – 20 min
PUBLIC TRANSPORTATION
Train – take a train to Beit She'an station, then go to the central bus station at Beit She'an, From there take bus 412 that reaches the crossroad at the entrance of the park.
Bus – take bus 825 from tel aviv straight to Beit She'an's central bus station . From there take bus 412 that reaches the crossroad at the entrance of the park.
PARKING AREA
There is spacious parking area for private vehicles, free of charge.
HITCHHIKING BOARD
Travelling with nice people is ecological and fun too! Soon we'll launch a hitchhiking board for the festival. Here is the Carpool List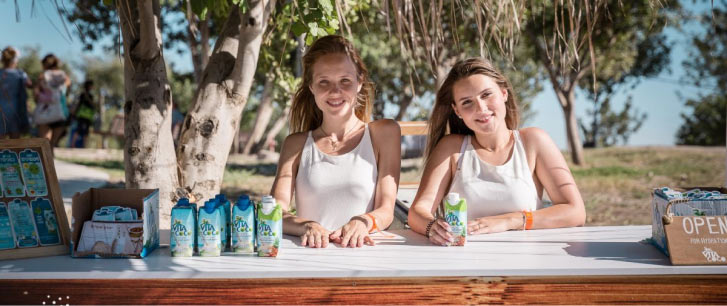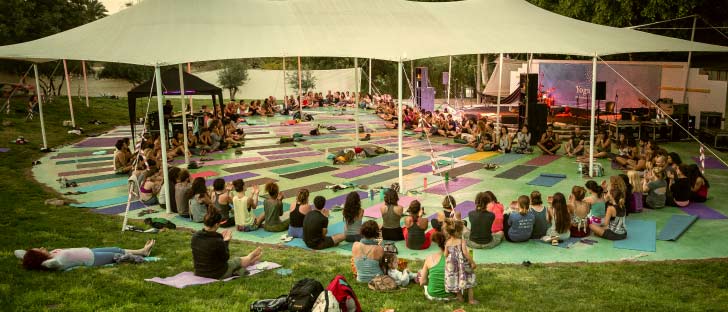 The last years of running this amazing festival has been an exciting and fascinating journey. Around this event a special and diversified community has formed, coming together once a year in the spring, for three magical days. Guests arrive from around the world to celebrate this magic.
Each year we grow more, learn and try to improve. We work hard to create the best festival possible and we do it with all of our hearts and with complete devotion.
The festival is about healing, transforming and peace.  We are very thankful to watch our crazy dream come true each and every year and we will be happy to have you with us, in our wonderful tribe.